Juan de Valverde´s (ca 1525 -ca 1587) anatomical atlas Historia de la composicion del cuerpo humano first printed in 1556 was one of the most popular and widely read anatomical books during the sixteenth century. It was issued in more than ten editions in Spanish, Italian, Latin, and Dutch, being an indication of it´s great popularity. The Hagströmer Library is fortunate to have a total of four copies, the rare first edition of 1556 and three later editions printed in 1579, 1586, and 1589. This blog will briefly present Valverde and his anatomical book, focusing on some of the fascinating illustrations in the first edition, which featured copper plates that were later re-engraved or copied in all the later editions and in other books as well.
Very little is known of Valverde´s life. He was born in Amusco, a small village in the province of Palencia in Northern Spain and studied philosophy and the humanities at the university in either Valladolid or Palencia. After graduation he continued his studies abroad like many other young students at the time. In 1541 he arrived in Padua in Northern Italy where one of the best medical universities in Europe was located and where Andreas Vesalius (1514-1564) taught anatomy. Valverde´s first year there is largely unknown, but he probably studied under both Vesalius and Realdo Colombo (c. 1515-1559) who was appointed to the second Chair of Surgery there. The meeting of Columbo and Valverde had a decisive impact on Valverde´s future success. During the following years he followed Columbo first to Pisa where Columbo was appointed to the Chair in anatomy and Valverde worked as his assistant, and then in 1548 they travelled to Rome where Valverde´s career continued to flourish. By 1555 he was teaching medicine in the Hospital of Santo Spirito and when St Ignatius of Loyola, co-founder of the Jesuit order and who later was canonized died in 1556, Valverde performed the autopsy. His medical prestige within Vatican circles was high and he became physician to Cardinal Juan Alvarez de Toledo, Archbishop of Santiago and first General Inquisitor of Rome, to whom Valverde also dedicated his book in 1556.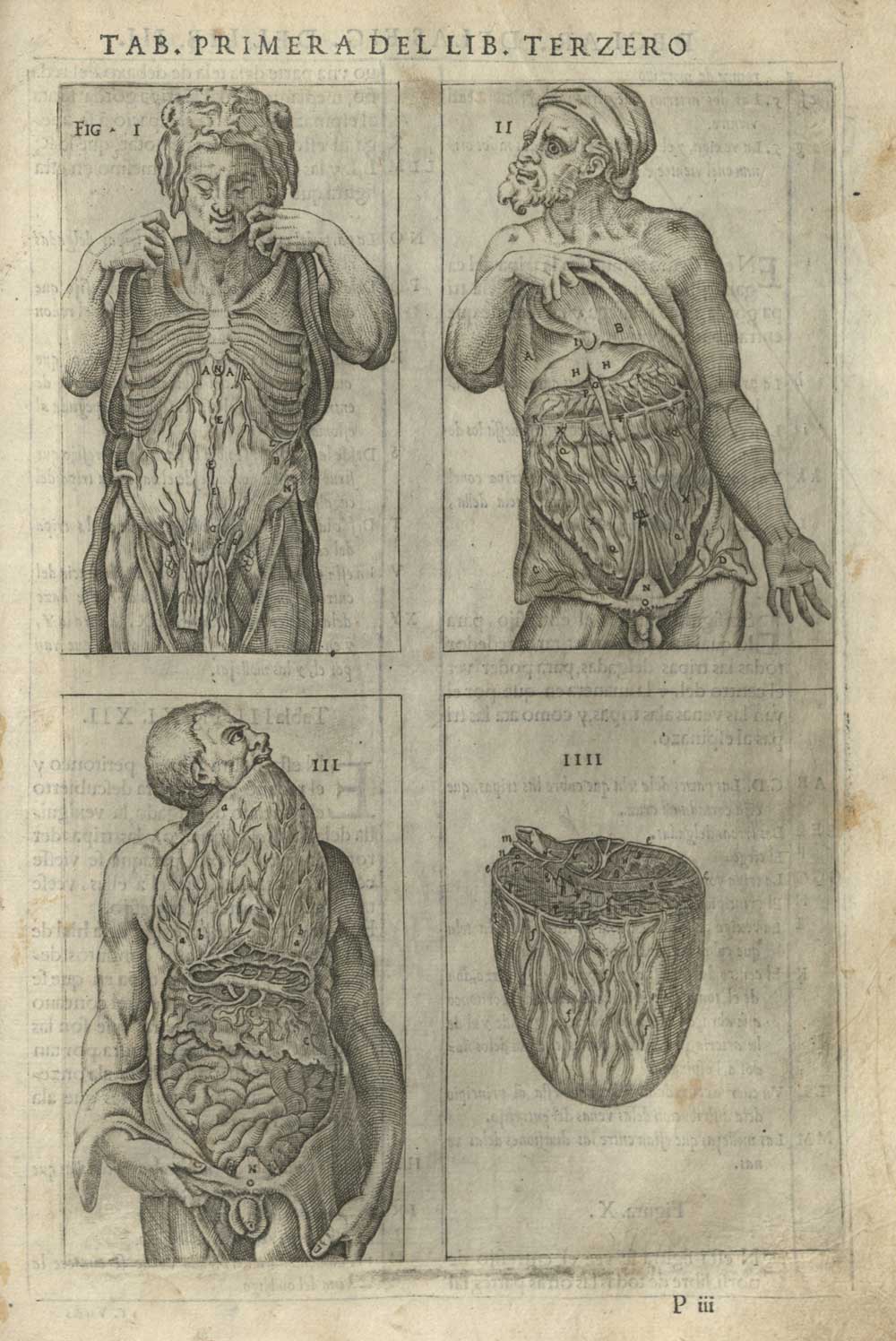 Historia de la composicion del cuerpo humano was printed in Spanish by Antonio Salamanca and Antonio Lafrery in Rome 1556. It contains forty-two full-page engravings depicting skeletons, muscle manikins and different body parts. The drawings were made by Gaspar Becerra (1520-1570), a Spanish architect, sculptor, painter, and anatomist who worked with Michelangelo in the Sistine Chapel, and the engravings were made by Nicolas Beatrizet (1515- ca 1589), a Frenchman who came to Rome in order to study the great works by Raphael, Michelangelo and others. Most of the illustrations in Valverde´s book are copied from the woodcuts in Vesalius´s famous Fabrica of 1543, as the muscle manikins, skeletons, and brains, which were copied in many anatomical books for centuries due to their high artistic quality and great popularity. Valverde writes in the foreword:
Although it seemd to some of my friends that I should make new illustrations without using those of Vesalius, I did not do so in order to avoid the confusion that could follow, not knowing clearly in what I agree or in what I disagree with him, and because his illustrations are so well done it would look like envy or malignity not to take advantage of them. Mainly becau- se it has been so easy for me to improve them as it shall be difficult for any other who would like to depart from them to make them that good.
One of the new illustrations, i.e. not copied from the Fabrica, is the spectacular échorché figure of a man holding his own skin in one hand and a knife in the other. The image is clearly influenced by the figure of St Bartholomew in Michelangelo´s fresco The Last Judgement from 1536-1541 in the Sistine Chapel in Rome, where Becerra worked as his assistant. St Bartholomew was a Christian saint who according to legend was skinned alive and then beheaded, and therefor often depicted holding the attributes of his martyrdom, the skin and a knife in his hands. The facial features in the skin, both in the engraving and in the fresco are by some said to bear the features of Michelangelo himself. The fresco was one of the most famous artworks in Europe at the time and certainly both Valverde and Becerra were aware of that many readers would recognize the affiliation between the two figures. Other new and striking images are the three men who seem fully content to display the inside of their abdomen, while curiously looking at each other. The top left figure is wearing a lion skin reminiscent of Hercules dressed in the Nemean lion´s skin, one of the many gods from Greek mythology popular in Baroque art. Maybe equally interesting are the odd images depicting figures in roman(?) armours opened at the stomach revealing the intestines of the bearer.
For all interested in the technique and craftmanship of these engravings, it is a wonderful and most interesting experience to put the five books next to each other, Vesalius´s Fabrica of 1543 and the four editions of Valverde´s book in order to carefully study the images side by side.
To see St Bartholomew in Michelangelo´s Last Judgement click here!
Anna Lantz, 29 May 2020
References
Choulant, Ludwig, History and Bibliography of Anatomic Illustration (New York and London, 1945).
Clair, Colin, Christopher Plantin (London, 1960).
Cushing, Harvey, A Bio-Bibliography of Andreas Vesalius (New York, 1943).
Guerra, Fransisco, 'Juan Valverde de Amusco', Clio medica, 2 (1967).
Okholm Skaarup, Bjørn, Anatomy and Anatomists in Early Modern Spain (London and New York, 2015)